The statistics are staggering.  Every year, millions of older adults fall at home.  Falls are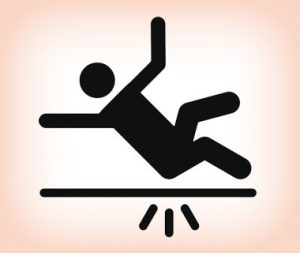 the leading cause of injury-related emergency room visits, hospitalizations and deaths.  People age 75 and older who fall are four to five times more likely than those age 65 to 74 to be admitted to a long-term care facility for a year or longer.  And, the death rates from falls of older men and women has sharply risen over the past decade.
Find out what you can do to prevent a serious fall and download our free fall prevention checklist below.
Falls Are Serious and Costly
One out of five falls causes a serious injury such as broken bones or a head injury
Each year, 3 million older people are treated in emergency rooms for fall injuries
Over 800,000 patients a year are hospitalized because of a fall injury, most often because of a head injury or hip fracture
Each year at least 300,000 older people are hospitalized for hip fractures
More than 95% of hip fractures are caused by falling, usually by falling sideways
Falls are the most common cause of traumatic brain injuries (TBI)
In 2015, the total medical costs for falls totaled more than $50 billion.11 Medicare and Medicaid shouldered 75% of these costs
What Conditions Make You More Likely to Fall?
Research has identified many conditions that contribute to falling. These are called risk factors. Many risk factors can be changed or modified to help prevent falls. They include:
Weakness
Difficulties with walking and balance
Medications, such as tranquilizers, sedatives, or antidepressants. Even some over-the-counter medicines can affect balance and how steady you are on your feet.
Problems with vision 
Foot pain or poor footwear
Home hazards or dangers such as

broken or uneven steps, and
throw rugs or clutter that can be tripped over.
Most falls are caused by a combination of risk factors. The more risk factors a person has, the greater their chances of falling.
Healthcare providers can help cut down a person's risk by reducing the fall risk factors listed above.
Falls Are Preventable
Falls are almost always preventable.  Don't be a statistic!  Please download this free senior fall prevention checklist to help you find and fix those fall hazards in your home.
About Senior Living Options of the Desert
Senior Living Options of the Desert is Southern California's leader in senior living referral. We've been helping families find compassionate care for their loved ones since 2004.
Whether you're looking for independent living, assisted living, memory care, or another form of senior care, our local family advisors will help you find the right option for you and your family. Our mission is to provide families with the best residential care options based on care needs and location, no matter what the budget. And, our services are always FREE.
You can get more information at www.seniorlivingoptionsofthedesert.com.