We've Been Helping Families Like Yours Since 2004
Hi, I'm Leann Dale, Owner of Senior Living Options of the Desert.
It would be an honor to help you and your family find the right senior living option, whether it be assisted living, memory care or one of the many care options available here in the Palm Springs area.  My team and I are local and we know senior care in the Coachella Valley.  
Please call us today for a consultation.  Our services are always free.
See What People Are Saying
We're With You At Every Step
Testimonials & Reviews
Five + Stars!

Leann and her team at Senior Living Options of the Desert were absolutely heroic in helping our client's family find the right care option for their mother and father. When it became too much for them to remain in their homes safely I referred them to Leann. She was amazing and my
A Guiding Hand!
Working with Senior Living Options of the Desert has been an extraordinary opportunity for our family to spend time with our mother. There was a guiding hand every step of the way.  
You Came Highly Recommended
We can't thank you enough for being there in our great need. Because we live in Arizona, we had no idea how to find a good care home for Walt's sister. > You came highly recommended by the hospice program. By talking to you on the phone and your kind visit to
You Are The Best!
I can't thank you enough for all your help. You are the best. It was a great comfort knowing that you are on "my side." I know my dad thanks you also.
Great Staff!
I want to thank you for having such a wonderful staff. I have been working with Senior Living Options of the Desert and they go above and beyond when it comes to helping you find just the right solution for your needs. They have helped me place my mom in a home
You Were Most Knowledgeable
You were most knowledgeable, understanding and supportive in patiently taking me to personally visit and inspect the several facilities that you prescreened for me.
You Are Truly the Local Experts
Dear Leann, I am writing to thank you for all of the help you gave me when I was looking for an assisted living facility / room and care home to place my husband early this year and then recently when we decided to move him to Los Angeles, two hours away
Helped Me Make an Informed Decision
Choosing a retirement home for my father up until now has been a trying, stressful and difficult task, but your help with this has changed all that. You turned this experience into an informative and exciting opportunity which both I and my father are looking forward to. You helped me relax throughout
Compassion and Personal Service
I really appreciated the compassion and personal service that Senior Living Options provided when I needed to find a Board and Care facility for my mom. While under the stress to find the right facility in a short period of time, Senior Living Options of the Desert made the process easy, by
A Truly Personalized Service
The services that Senior Living Options of the Desert provide are a valuable resource for anyone, in any form, of case management. It is truly a personalized service. I have worked with the staff from Senior Living Options of the Desert and you have proven to go out of your way for
I Highly Recommend
As a Case Manager, I had all the information at my fingertips, but I sat there, struggling with this, as so often the families of my patients do. I was paralyzed, frightened and pressed for time to make a decision and do the right thing. My saving grace and gift from God
Attention To Detail
They know the facilities, they know the management, they know the environment, so with each individual they can cut through the clutter. That's what it's all about, attention to detail and sensitivity.
I Felt Like You Were Family
I live in North Carolina. Being so far away is difficult and I have felt helpless. When I spoke with you about the possibilities for my sister I was impressed by your genuine kindness, information, immediate response, follow up and concern. You do not even know me, yet I felt like I
Tenacity and Enthusiasm
Thank you for your tenacity and enthusiasm in assisting me in my time of crisis, it was life changing for my mother and myself. It has been a privilege to receive excellent service beyond my expectations. My mother and myself were very fortunate to encounter someone with your knowledge of assisted living
Caring, Professional & Knowledgeable
Leann is a perfect combination of caring, professional and knowledgeable. My family had a challenging situation that warranted a quick solution and Leanne was amazing in her guidance—from knowing the optimal facilities, getting tours set up in a timely fashion, to referrals for other high quality providers. She even helped out over
A Wonderful Experience!
If I had not been referred to Senior Living Options I don't know where I would have turned. It's an incredible free service, a priceless free service. It's been a wonderful experience!
The Peace-of-Mind You Have Given Me is Priceless
Senior Living Options of the Desert were a God send! When it became clear my Mother could no longer live on her own, I didn't know where to turn. My Mother was diagnosed with second stage dementia. I didn't know where to start. A friend recommend Senior Living Options of the Desert,
They Are The Best!
I don't know what I would have done without this kind of help! I didn't realize this was a business of helping people. I definitely recommend Senior Living Options of the Desert, they are the best!
Thank You!
When my Mom suddenly wasn't able to live independently, Rick and Susan Peterson of Senior Living Options of the Desert were really great in helping her to find a good safe place to live. They were attentive to her personal needs, respectful of her budget requirements and really supportive. They were also
Your Compassion and Caring is Evident In All You Do
Words cannot describe how wonderful you've been. During each challenge along the way, you've made yourself available to help us determine the best possible transition for Dennis' Mother. Your compassion and caring is evident in all you do.  On behalf of the entire family, thank you for your help.
I Sleep Peacefully at Night Now!
Hi Janice, I just wanted to write a note to give my heartfelt thanks to Leann and Rick for their incredible assistance in finding the right place for my dad and for guidance in how to complete the VA forms (including the correct forms) to submit for financial assistance. My dad was
Far Beyond My Expectations
I wanted to take this opportunity to thank you and the staff of "Senior Living Options" for assisting me with making the right choice of an Assisted Living facility for my father and stepmother. Further, the services and resources offered by your agency went far beyond my expectations. Along with several tours
Thanks So Much For Your Help
Leann – thanks so much for the help you were able to provide. Your associate, Colleen lead my dad to a few places, and Merrill Garden is where both he and Myrsene plan to move, if VA financially supports, and I believe that won't be an issue, by March 1. It is
You Came To My Rescue
I wanted to let you know how much I appreciated your staff. For me and my family you were an answer to a prayer. I had begun to despair I would not find the right place for my father. You came to my rescue.
Leann Is a Special Kind of Person
I am so fortunate when I initially contacted Senior Living Options of the Desert and that Leann would be the one contacting me. It takes a special kind of person to do what Leann does. Her patience and knowledge after meeting my parents and experiencing their personalities and which communities were best
Our Sincere Gratitude
On behalf of myself and Veronica Urich's entire family we would like to express our sincere gratitude for all of your help in the placement of our Grandmother-mother-wife. We moved her into her new home about 1 ½ weeks ago and everything went smooth. She seems really happy there, which makes all
A Partner With Eisenhower
Just wanted to take a few minutes today to formally thank you for the interesting and very informative seminar you presented to the senior concerns committee this past Sunday. Although the turnout was somewhat small, the enthusiasm of the participants clearly made up for it. You were entertaining, easy to understand, and
Now We Can Focus on Quality Time With Our Mom
When family caregivers need help, I recommend that they reach out to Senior Living Options of the Desert. When Karyn and I needed to consider residential care for her 90 year old mother we were referred to SLO by our medical group. Senior Living Options of the Desert guided us through what
5 Stars
Very helpful & knowledgeable and made me feel so comfortable while helping me with my mom's placement. I would highly recommend them as they have so much heart and really care about your loved one. 3/17/2017
Your Recommendation Was On The Nose
Just a short note to tell you how much I appreciate your time and effort on behalf of myself and my wife amidst the guilt and confusion of acknowledging that my wife would be better cared for in the proper long term care facility. Your recommendation was on the nose. The caring
Such A Pleasure To Work With
We thank you for all your efforts in narrowing down the best placement for Marilyn. You are such a pleasure to work with. We feel very blessed.
Alzheimer's Support
Leann, where do I start? First of all, you need to replace your supply of business cards at the Rancho Mirage Alzheimer's office because I just took the last 4 that were there in the card holder. I forgot who the other rep is that has cards in that same holder but
I am Deeply Indebted to You
Now that I have time to breath I wanted to send you the biggest and best thank you for the heartfelt time and effort that you spent helping me with my mother. It is never easy when your parent gets older and starts to fade and unable to care for themselves. In
2019-04-04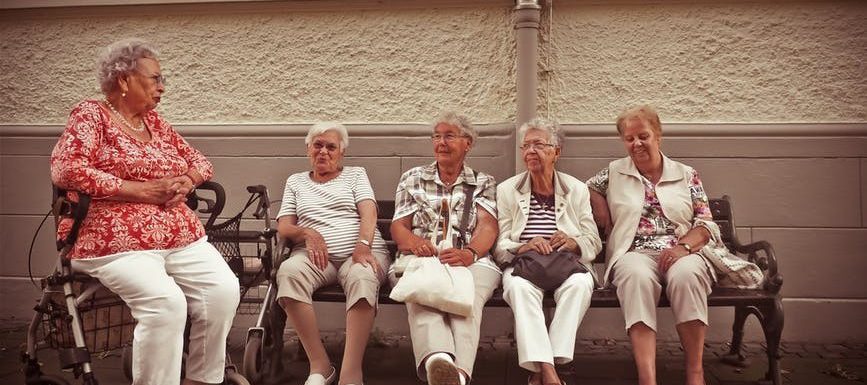 As we age, it's normal to lose social connections along the way. According to Greater Good Science Center at UC Berkeley, we lose 'social capital' as we age. This is usually due to retirement, friends and family members moving away, or losing them to illness and death. This normal decrease in daily social contactsRead More →
2018-03-30