Palm Springs is located in the Sonoran Desert of southern California, a short 90 miles from Los Angeles.  It is known for its hot springs, stylish hotels, golf courses and spas. It's also noted for its many fine examples of midcentury-modern architecture. 
There are many wonderful choices for assisted living facilities in Palm Springs.  Here are just a few of them.  Our staff can help you find just the right options for you.

Address: Palm Springs, CA 92262
Care Type: Assisted Living
Activities: social events, spiritual events, exercise programs, dancing events, recreational events, arts and entertainment, music programs
Services: medication management, transportation services, assistance with daily living activities, housekeeping, laundry services, meals included
Amenities: beauty salon, media room, gardens, library, dining room
Hallmark Assisted Living is conveniently located in Palm Springs, California, close to Medical Centers, Hospitals, Shopping Malls, Live Theater, Fine Restaurants and much more.
Hallmark Assisted Living is comprised of 46 apartments – offering outstanding care in a family-like environment.
Our residents receive the very best in care, attention and service. We have luxurious studios & one bedroom apartments (all private) with patios or balconies; overlooking a beautiful courtyard with exceptional mountain views. Three daily meals are included – our menu is pleasing and appetizing. Food service is of excellent quality. All apartments have kitchenettes with refrigerator and sink area. Several of our residents who have pets have an apartment with a patio that conveniently opens on the courtyard.
We have a licensed vocational nurse and caring competent 24-hour staffing – should assistance with daily living become necessary.
Our Activity Program is varied and entertaining. We provide a stimulating social environment. A perfect place to make new friends and create great memories. A beauty salon is operated on our premises. Please visit the gallery section of our site to view or facility.
Stonewall Gardens Assisted Living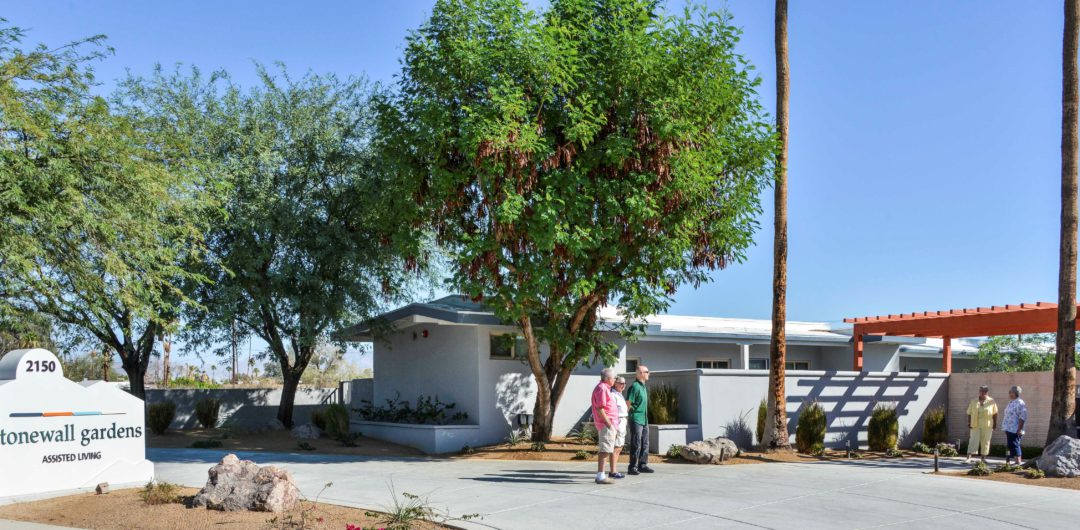 Address: Palm Springs, CA 92262
Care Type: Assisted Living
Activities: social events, exercise programs, Wii fit, outings, community events, intellectual activities, happy hour and lots of parties
Services: meals and snacks, 24-hour emergency response, transportation, housekeeping and laundry. Extra services include medication management, assistance with activities of daily living
Amenities: media room, free TV w cable, WiFi, mountain views and pet-friendly
Stonewall Gardens, Palm Springs' first senior assisted living village for the LGBT community and friends. Located in the burgeoning Uptown neighborhood of Palm Springs, the 24-unit community is operated by Northstar Senior Living, one of the premier providers of senior living in the country!
Originally built as a 1950's bungalow style resort, Stonewall Gardens offers stylish midcentury modern design, beautiful desert landscaping, and serene water features. Located close to shopping, restaurants, and entertainment venues for music and art, the community consists of two one-bedroom apartments, two shared apartments, and twenty deluxe studios. The Uptown area of Palm Springs is emerging as a neighborhood with new and existing restaurants, hotels, and other businesses. Stonewall Gardens is close enough to the vibrant Uptown Design District while still being quiet and secure. 
Amenities include three chef-prepared meals per day served in an intimate dining room setting or in one of the many al fresco dining areas, weekly laundry and housekeeping service, an outdoor entertainment area for BBQs and parties, a patio with every apartment, and even a piano for planned and impromptu entertainment. Each unit features large bathrooms, energy efficient windows, flat screen TVs, and there is ample parking for residents and guests. An Activities Director is on staff to develop educational, social and recreational programs for residents including fun and interesting field trips.
Regarding the need for an assisted living community with a focus on LGBT seniors, Steve Kregel, Chief Operating Officer at Northstar Senior Living explains, "Unfortunately, many LGBT seniors face open discrimination as a result of their sexual orientation and often go back into the closet when selecting an assisted living facility. Now these deserving seniors can live in a safe and caring environment where they are free to be themselves."